The Best Apartment Move Out Cleaning Guide:

Get Your Deposit Back! 
How clean should you leave your apartment when moving out? Most importantly, what happens if you don't bother? A basic rule of thumb when renting an apartment is that you should leave it in the same condition as when you moved in, except for reasonable wear and tear. There are certain expectations in how you leave your rental when moving out as well as consequences.
Most landlords request a security deposit and hold it as collateral in case the occupants don't leave the rental unit in good shape. If you want to get your money back, don't give your landlord any reason to hold on to it. Instead, give the place a thorough cleaning, fix any alterations you made to the unit, and take care of any minor repairs that may be needed. For example, if you nailed a picture on the wall or installed curtain rods or hooks in the ceiling for hanging plants, be sure to take these down and fill any holes you made with putty.
Once you're finished, be sure to take photos of the entire apartment just in case the landlord does try to hold onto your deposit. That way you'll have proof that you left the place clean and in the same condition as when you moved in. Our handy "Apartment Move-out Cleaning Guide" below will help you get it all done, even those pesky spots that often get missed such as behind the toilet, baseboards, ceiling fans, hanging light fixtures, window sills, dishwasher (inside), and microwave (inside), just to name  few:
Apartment Move Out Cleaning Guide: Room by Room 
When cleaning your apartment always work from the top (ceiling fan, windows, walls) down (floors, baseboards, carpet). This allows dust and dirt to fall to the ground as you clean, so you don't have to sweep or vacuum multiple times throughout.
1. Clear the dust and cobwebs from the ceiling 
You might have abandoned this step throughout your entire lease, but remember to clean the ceiling before moving out. Use a Vacuum: A vacuum with a long hose and its widest brush attachment is the best way to capture the dust and prevent it from spreading around the room. Use a Broom: A soft-bristled broom works well to sweep away dust and any cobwebs. Don't work too aggressively because you may remove more popcorn than you desire.
2. Dust ceiling fans and light fixtures
Remove loose dust from ceiling fans with a cloth or duster. You can also wipe both sides of the fan blades at once using a long-handled U-shaped brush. This special tool is available from most hardware stores and home centers. Or slip an old pillowcase over the blades one by one, then pull it back to remove dust and dirt. A duster with an extendable arm will help you reach tall ceiling lights. Dust the fixtures and use a cleaning wipe to wipe down light switches.  
2. Dust the blinds
Grab an old pair of socks and put one on like a glove. Dip it in water until it's damp, then run your hand across each rung moving side to side to rid the blinds of dust. This method also works great for cleaning heaters and air vents.
3. Wash the windows
Use a glass cleaner or a vinegar and water solution to wash your windows. Simply spray the solution onto the window and wipe quickly with a lint-free cloth to avoid streaks. Make sure to dust off the handles, locks, and between the sliding tracks if your windows have them.
4. Remove any nails and patch walls
Use commercial putty and paint in the same color as your wall (sometimes your landlord will provide this) to restore it to its original state. Be sure to use a putty knife to properly apply the product and allow it dry before sanding the spot and going over it with touch-up paint.  
5. Paint walls back to their original color
If you've added a little extra flair to your apartment by painting an accent wall, or even if you've painted all of the walls, you'll want to paint them back to their original color.  
6. Check smoke detectors
You should ensure all smoke alarms have working batteries, especially if they came that way when you moved in. Most come with a test button you can press to indicate battery life; a weak or nonexistent signal means it's time for new batteries.
7. Clean walls and baseboards
Use the brush attachment on your vacuum to remove any dust lingering on your baseboards or trim. If you have stains on your walls, grab a microfiber cloth and wash the walls using soap and water or an appropriate cleaner for the paint finish.
8. Clean the carpet and remove stains
Depending on how soiled or damaged your carpet is, a good, thorough vacuum may be all you need. However, if certain areas are worn from heavy traffic, or if you have significant stains, steam cleaning is probably required. This is especially true if you have pets. It can be difficult to notice pet odors if you have lived with them for a while, but they can be very difficult to remove.
Many steam cleaning services offer special services that use enzymes that can remove pet smells for good. Remove stains by applying commercial carpet cleaner and let it sit for a few minutes. Use a microfiber cloth to blot the stain away. Some common carpet stains require a specific solution for removing, so be sure to use the right product that's also safe for your carpet type.
9. Vacuum and mop floors
Last but not least is to vacuum and mop the floors. Save this one for last as dust and particles have likely fallen while cleaning elsewhere. Sweep or Vacuum First. Choose a mop based on your floor type and select a cleaning detergent designed for your flooring type. Fill a bucket with detergent and water. Dip and wring the Mop. Begin mopping. Rinse the mopped Area.
Apartment Move Out Cleaning: The kitchen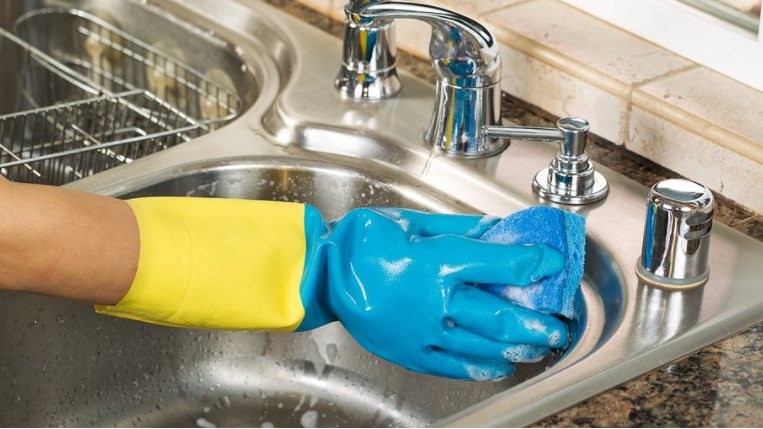 Your kitchen is one of the hardest working rooms in your home, but it's also a magnet for grime, grease, crumbs, and stains. Make sure to give your apartment kitchen a deep clean before your move-out inspection.
1. Clear out the cabinets and pantry
Start by removing everything from your cabinets and pantries (this is a great time to toss expired food items). Remove any shelf liners and wipe down the shelves with a damp cloth. You can also save time by using the brush attachment on your vacuum to suck up any crumbs. Wipe down the front of the cabinets with soapy water and a microfiber cloth. 
2. Clean the fridge
First, remove all fridge contents and throw away any expired items. Pack food into a cooler until you're finished cleaning. A spray bottle filled with one part baking soda and seven parts water will work wonders for cleaning your refrigerator interior and exterior. Scrub the refrigerator inside and out. Remove all shelves and clean separately if necessary. Be sure to wipe the drawers, doors, and handles.
3. Scrub the oven
Scrub the oven inside and out. Remove shelving, drip pans, and burners. Combine water and baking soda to form a paste, then brush the mixture onto the inside of the oven, avoiding the coils. Once dry, spray distilled white vinegar on any remaining residue and wipe clean. Make sure to wash the grates and racks, too.
4. Clean the microwave (inside)
Place 1/2 cup of water and 1/2 cup of white vinegar in a microwave-safe bowl and microwave on high until the mixture comes to a rolling boil and the window steams up. Allow the microwave to cool for a few minutes, then wipe the interior down with a sponge or cloth. Don't forget to clean the outside of the microwave and keypad with a cloth dampened with warm, soapy water.
5. Clean behind & underneath appliances 
Pull out appliances from the wall and sweep or vacuum behind them. Mop or wipe down the area with soap and water if grimy. To clean under your appliances without moving them, grab a yardstick and cover the end with a microfiber cloth attached with a rubber band or an old tube sock. Sweep your tool multiple times under each appliance. Vacuum or sweep up what you've unearthed.    
6. Sanitize the sink, drain, and disposal
Clear out a slow drain with the help of one part baking soda and two parts white distilled vinegar. First, add the baking soda to your disposal, then slowly pour in the vinegar. Let the bubbly mix sit for at least 15 minutes, then rinse it out with hot water. Next, clean the kitchen sink basin with a little dish soap and hot water. Dry with a microfiber cloth. Clean and shine up the faucet with a microfiber cloth. 
7. Clean the dishwasher (inside)
Use a sanitizing wipe to rid your dishwasher's door of any soap scum and hard water spots. Then run the dishwasher empty with a ½ cup of vinegar to get rid of any odor. Don't forget to wipe down the outside as well. 
8. Sanitize the countertops
A simple sanitizing wipe or all-purpose cleaner will make easy work of cleaning countertops. If you have stains or discolored grout, make a paste of baking soda and vinegar and apply it to the area. Let it sit for a few minutes before using a scrubbing brush. Wipe clean with a warm, damp cloth or paper towel.
9. Clean the washer & dryer
If you have a washer/dryer in your kitchen pantry or unit, you'll want to make sure any lint or detergent spills are removed. Scrub laundry messes away using a damp microfiber cloth dipped in warm water. You may also want to run the washer empty with 1/2 cup of bleach to get rid of any mildew or odors.
Apartment Move Out Cleaning: The Bathroom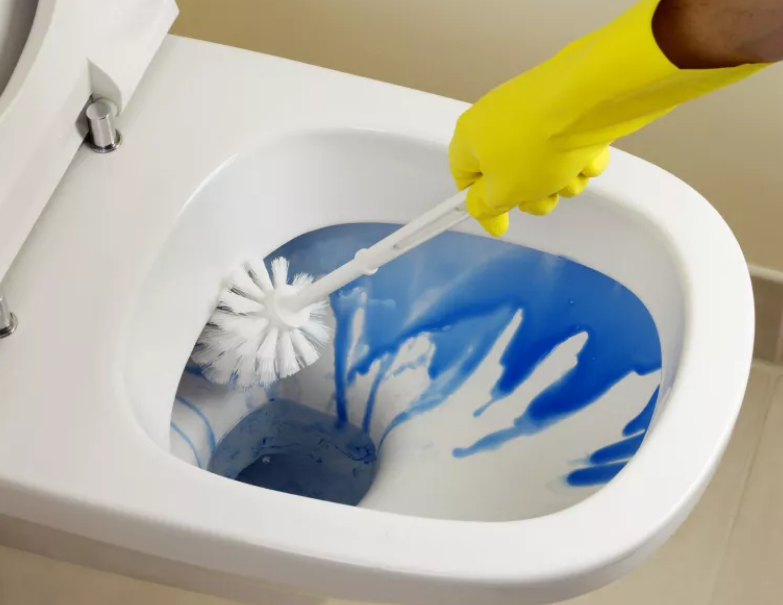 Before cleaning your bathroom, box up all cosmetics, toiletries, and towels that you don't use on a regular basis. Keep only the items you'll need for your final days before moving out.
1. Polish the mirrors
To polish your bathroom mirror, spray an ammonia-based glass cleaner directly on the mirror, then use a dry lint-free cloth to wipe the surface from top to bottom. Wiping in a circular motion will ensure your mirror is streak-free!
2. Sanitize the vanity
Use an all-purpose spray to wipe down the surface of your bathroom vanity. If the faucet has water stains, spray distilled white vinegar directly on it and wipe dry using a microfiber cloth to polish. Clean out the bathroom drawers and vanity, making sure you get all the hair out and remove any liners.
3. Disinfect the toilet
Get rid of any rings in the toilet bowl by pouring ½ cup of bleach into it, then scrub with a toilet brush. Once you've finished scrubbing the toilet bowl, wipe down both sides of the seat and the tank with a bleach-based cleaning spray. Be sure to open a window or turn on your bathroom fan when cleaning with bleach.
4. Scrub the shower/bath
Fill your bucket with a half-gallon of hot water and two tablespoons of dish soap. Dip a scrub sponge or a stiff nylon brush into the bucket, and scrub all bathtub surfaces. Use distilled white vinegar to clean glass shower doors before trying heavy-duty products with chemicals.
Heat 1/2-cup undiluted vinegar in the microwave for 30 seconds. Pour warm vinegar into a spray bottle. Mist the area to be cleaned and allow to soak for five minutes. Wear rubber gloves and scrub the area with a soft plastic bristle scrub brush or sponge. Rinse the area with water.  
5. Mop the floor
Once you've finished cleaning all bathroom surfaces in your apartment, focus on the floor. First, pick up any loose items, and clean up debris using a vacuum or broom. Mix white distilled vinegar with water in equal parts to form a cleaning solution. Then, dip a cloth into the mixture and scrub the floor surface until clean. Buff it and allow it to dry.
6. Don't forget the balcony (if applicable)   
Apartment balcony cleaning is a fairly simple but necessary move-out task. First, make sure to remove all furnishings and personal items before you begin cleaning. Next, you'll want to sweep off the space using a stiff-bristled broom.
Spot-clean the balcony using an all-purpose cleaner to get rid of any remaining grime or stains and be sure to wipe down the railings. Leaves and dirt have likely found their way into the tracks of your sliding door. Use a vacuum to quickly get them out.
Apartment Move Out Cleaning Checklist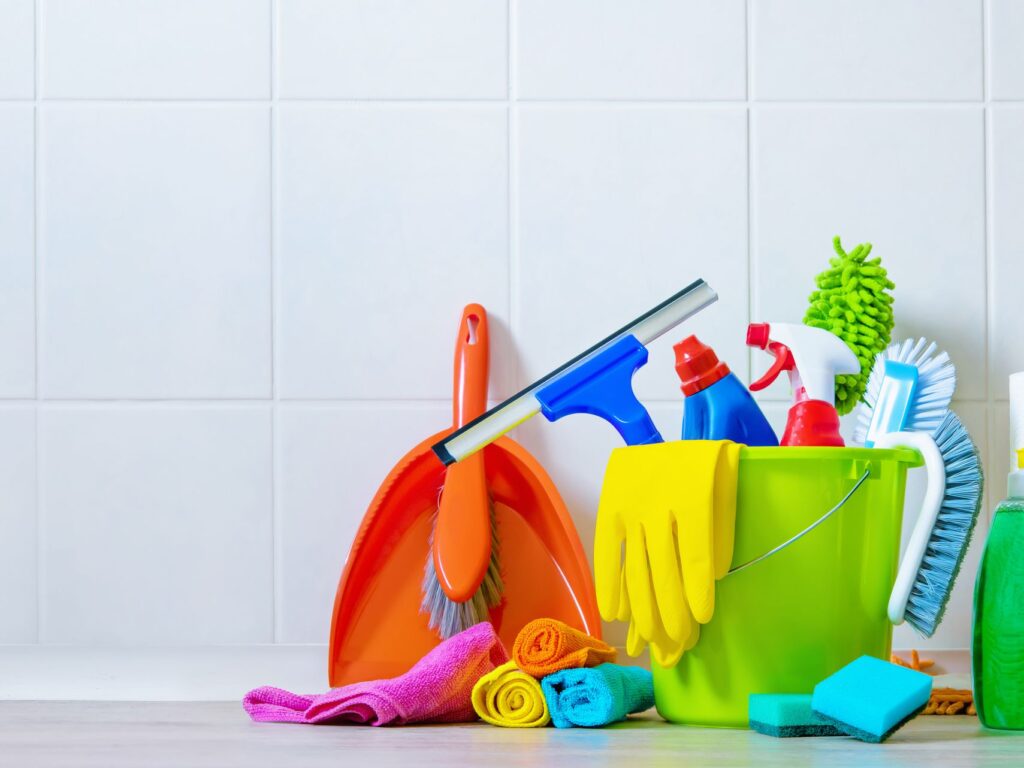 Use the move-out cleaning checklist below to make sure you clean everything in your apartment that needs to be cleaned. With so many places to clean, it can be easy to forget the insides of appliances, such as your fridge, stove, and microwave, so be sure to give them attention, too!
✓ Remove dust and cobwebs from the ceiling
✓ Dust ceiling fans and light fixtures
✓ Dust blinds on all windows
✓ Wash windows
✓ Remove nails and patch walls
✓ Check smoke detector batteries
✓ Clean walls and baseboards
✓ Clean carpet and remove stains ✓ Vacuum and mop floors
✓ Clear out kitchen cabinets and pantry
✓ Wipe down fridge inside and out
✓ Clean the oven
✓ Clean the microwave
✓ Clean behind appliances
✓ Sanitize the kitchen sink, drain, and disposal
✓ Clean the dishwasher
✓ Sanitize kitchen countertops
✓ Clean the washer and dryer
✓ Polish bathroom mirrors
✓ Sanitize the bathroom vanity
✓ Disinfect the toilet
✓ Scrub the shower or bath
✓ Mop the bathroom floor
✓ Clean the balcony and sliding door
Even if some or most of your deposit is non-refundable, you should still do your best to clean, put things back the way they were, and make small repairs to avoid further charges. Not to mention, ensuring that you get a positive reference for your next apartment. You should also assume that any cleaning, repairing, or replacing that your apartment management company or landlord needs to do on your behalf will probably be more expensive than if you handle these things yourself, giving you more control over the costs.  
If you simply don't have time to clean at the time of your move, your best option is to hire an apartment move-out cleaning service yourself rather than allowing the landlord to choose one for you. Additionally, there could be other fees and service charges tacked on which you can avoid by seeing to the process yourself. The cleaning PROs at Clean Nation Company can get your apartment spic and span, so you can move on and get your security money back with no hassles.  
Professional Apartment Move-out Cleaning Services
For more information about our cleaning services, please give Clean Nation Company a call today at (509) 217-4729.
The Best Apartment Move-out Cleaning Services
Clean Nation Company is a full-service cleaning company with over 50 years (three generations) of experience in the cleaning and janitorial industry. We specialize in turnover cleaning, move-in-out deep cleaning, and Airbnb cleaning services. Our high standards, attention to detail, and ongoing employee training are what set us apart from other cleaning companies.
We provide quality apartment move-out cleaning services you can count on by trained cleaning pros. If you are not completely satisfied with an area in your unit we have cleaned, simply call us within 24 hours and we will re-clean it for free—no questions asked! All of our cleaners are bonded and insured and receive a background check before they are hired. 
We are committed to providing the best apartment move-out cleaning services available:
Woman-owned and operated full-service cleaning company

Over 50 years (three generations) of experience in the cleaning industry

24/7 cleaning options & support

Emergency one-time cleanings

Professionally-trained cleaning specialists

Healthy home electrostatic spray disinfection services

Commitment to the highest level of clean

Licensed, bonded, and insured 

Customized cleaning solutions

Quick response times

100% satisfaction guarantee

OSHA, HIPAA, EPA, CDC, compliant

BBB Rating: A+
For more information about our quality apartment move-out cleaning services in Liberty Lake, Post Falls, Spokane, Spokane Valley, or the surrounding area, or to schedule a cleaning visit, please give Clean Nation Company a call today at (509) 217-4729. Request a free online cleaning quote now!