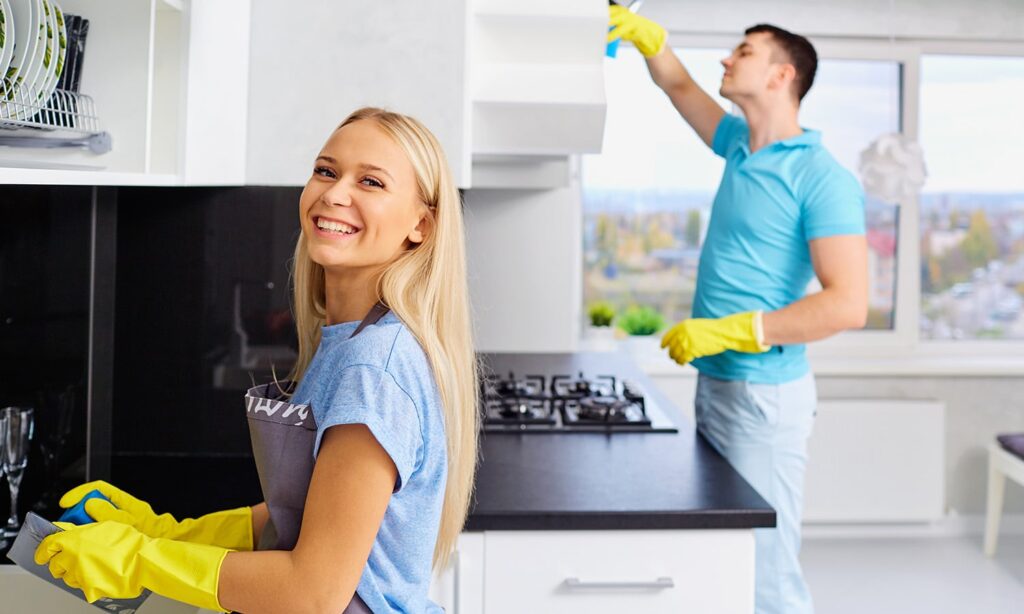 One-time House Cleaning Services
Clean Nation Company offers one-time house cleaning services to help you keep your home looking and feeling its best. Our professional cleaners are dedicated to providing high-quality cleaning services in Spokane, Spokane Valley, Post Falls, Liberty Lake, Post Falls, Coeur d'Alene, and the surrounding area.  
An experienced cleaning crew will come to your home at the scheduled time and work quickly and efficiently to clean every room. They will pay attention to every detail and leave your home spotless from top to bottom. Our cleaners use only quality cleaning supplies that are family-friendly and safe for children and pets.
In addition to tackling all visible dirt and dust, we will clean the hidden areas that often get missed, such as baseboards, under furniture, and those hard-to-reach spots. We touch every inch of your home and never cut corners. You'll know your home has received the highest professional care when we finish.  
Who Benefits from A One-time House Cleaning Service?
Our one-time cleaning service is perfect for homeowners who need a thorough house cleaning but don't require regular cleaning services at this time. This service is also excellent for those moving house and who want to leave their home in pristine condition for the new residents. Additionally, a one-time cleaning service is highly beneficial if you haven't had a professional cleaning for some time or have just moved into a new home. 
Whether you choose our popular one-time cleaning service or invest in recurring house cleaning services, you'll be happy with the results!
Our One-time Cleaning Services 
One-time cleaning services include all the same services as our recurring house cleaning. Our team will dust and polish all surfaces, vacuum, mop floors, and wipe down all appliances and fixtures. We'll clean and disinfect the bathroom(s) toilet, sink, mirrors, shower, and tub; in the kitchen, we'll disinfect the sink and wipe down all appliances (i.e., stove, fridge, microwave).  
Additional Services Offered
We offer additional cleaning services (i.e., high-dusting, refrigerator interior cleaning, oven cleaning, and interior/exterior window cleaning) for those who want to go above and beyond our standard one-time service.
Our cleaners are trained in the latest cleaning technologies, tools, products, equipment, safety, and quality standards. If you are unsatisfied with any area in your home we have cleaned, let us know within 24 hours, and we'll re-clean it at no additional cost. We stand behind the quality of our work and guarantee 100% customer satisfaction. Our cleaners are background-checked, bonded, and insured.
Clean Nation Company
Woman-owned and operated full-service cleaning company
Over 50 years (three generations) of experience in the cleaning industry
24/7 cleaning options & support
Emergency one-time cleanings
Professionally-trained cleaning specialists
Electrostatic viral spray technology
Commitment to the highest quality of clean
Licensed, bonded, and insured
Customized cleaning solutions
Quick response times
100% satisfaction guarantee
OSHA, HIPAA, EPA, CDC, compliant
BBB: A+ Rating
Call Clean Nation Company at (509) 217-4729 to learn more about our quality one-time house cleanings or to request a Free Quote today! Our friendly, knowledgeable staff will be happy to answer any questions. We look forward to helping you keep your home looking and feeling its best.