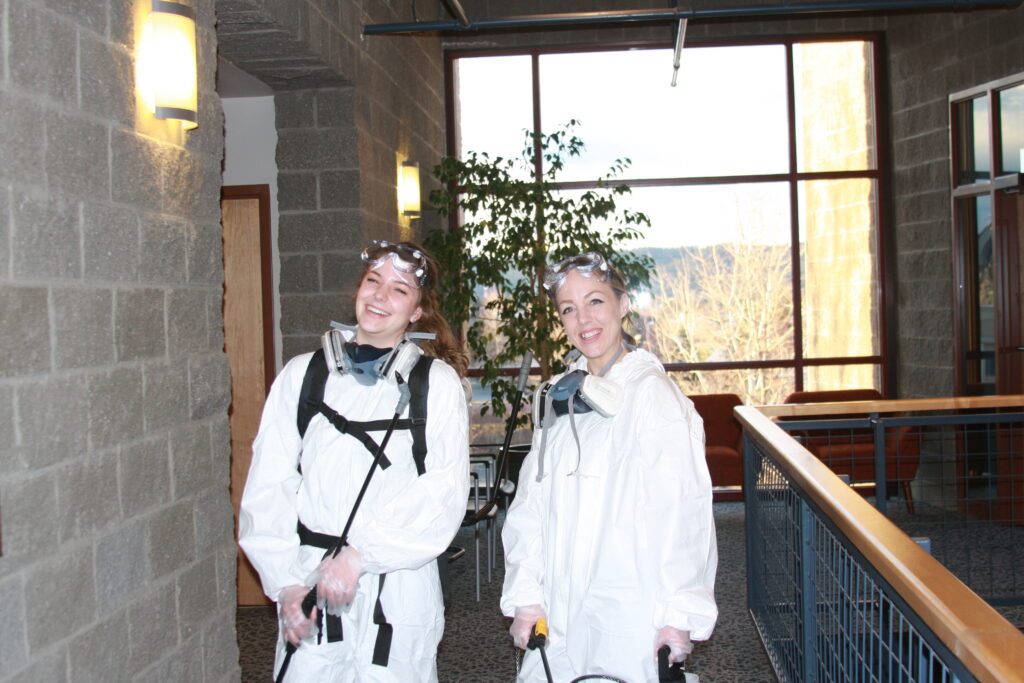 Clean Nation Company – Expert COVID-19 Residential Cleaning Services 
At Clean Nation Company, we provide efficient and effective COVID-19 residential cleaning services for prevention as well as emergency cleanings for confirmed COVID-19 infection cases. Our trained cleaning pros use a combination of hand wiping and an electrostatic sprayer to apply a safe, hospital-grade disinfectant solution. Electrostatic spray technology has been proven to kill 99.99% of viruses in a matter of minutes, including SARS-CoV-2, the virus that causes COVID-19, making it not only highly effective but also extremely fast-acting. 
The appropriate chemical with the proper dilution ratio is key to effective viral disinfection along with precleaning surfaces and adhering to manufacturer dwell times (the amount of time a product needs to remain wet on a surface to achieve microorganism kill claims). Our cleaning team gives special attention to high-touch surfaces, i.e., countertops, tables, doorknobs, handles, light switches, counter appliances, tables, doorknobs, desks, phones, keyboards, toilets, faucets, sinks, etc., as per guidelines issued by the Centers for Disease Control and Prevention (CDC).  
COVID-19 Residential Cleaning Services
Call Clean Nation Company today – (509) 217-4729
Our Cleaning pros use an EPA-registered disinfectant solution with a broad spectrum kill-claim proven for use against coronavirus, norovirus, H1N1, SARS, MRSA, swine flu, E. coli, salmonella, and other pathogenic microorganisms. The disinfectant solution leaves no visible residue or harsh odors and is environmentally-friendly, hypo-allergenic, and safe for household use. 
We are taking additional measures to ensure that we provide the best clean possible while also upholding high safety standards. The health and safety of our customers and our professional cleaning team is our top priority. Freshly laundered and disinfected supplies are always used for each cleaning visit. Before entering your home, our cleaning professionals will sanitize their hands, put on masks, gloves, booties, and wear additional personal protective equipment (PPE) as needed.
While in your home, our cleaning pros will keep a 6-foot distance from others and will clean all rooms in a specific order, ending at the front door.  Request your free online estimate now!
Worry-free services – customer satisfaction
At Clean Nation Company, we understand how important it is to protect your home. You can be assured that each member of our cleaning team undergoes extensive screening before they are hired, is thoroughly trained in all aspects of professional cleaning, and is insured for your protection. Customer satisfaction is vitally important to us and we take it very seriously.
We strive to provide the highest level of service possible and understand that our reputation is only as good as our last cleaning visit. If you are dissatisfied with any aspect of the cleaning services we have provided, please don't hesitate to give us a call within 24 hours and we will make it right at no additional cost to you. We want you to feel completely confident in our ability to accommodate all of your house cleaning needs.  
Clean Nation Company provides:
24/7 cleaning options & support
Emergency cleanings, including COVID-19
Professionally-trained cleaning specialists
Commitment to the highest quality of clean
Licensed, bonded & insured
Customized cleaning solutions
Quick response times
100% satisfaction guarantee
OSHA, HIPAA, EPA, CDC, compliance
For more information about our COVID-19 residential cleaning service, including electrostatic spray disinfection, please give the cleaning pros at Clean Nation Company a call today at (509) 217-4729 or request a free estimate online now!
Clean Nation Company services the following locations: Spokane | Spokane Valley | Liberty Lake | Post Falls